Abigail's X-Rated Teen Diary: It's Comedy, People, Not Porn
People Profiles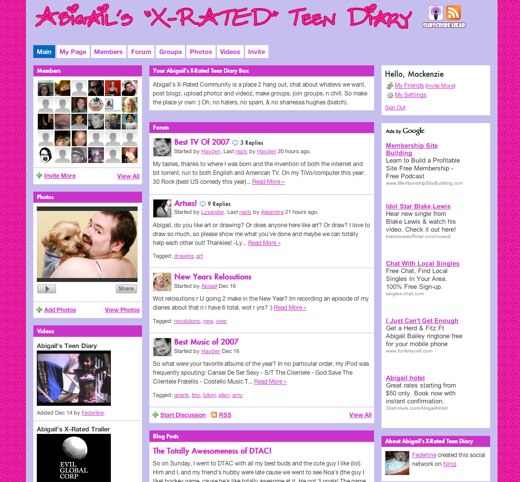 Abigail's X-Rated Teen Diary is a social network for fans of the eponymous online comedy, Abigail's X-Rated Teen Diary. Named one of the "Best Podcasts of 2007" by iTunes, the series is written and produced by Hayden Black, who also stars as 13-year-old Abigail. Abigail is your average 8th grader, dealing with crushes on boys, feuding parents, and a (fake) rare genetic disease that makes her look like a middle-aged man.
What's refreshing about the show is not only the amazingly awkward situations Abigail gets into, but the accessibility of the show. Produced in one minute episodes added several times a week, it taps into the feeling of being an outsider we've all had at one time or another.
Abigail's network officially launched a little over a week ago. Members include everyone from teenage girls to Hayden himself, and are encouraged to add their own photos, blog posts, and videos alongside Abigail's. Here's the teaser trailer for the show in the network's branded embeddable video player:
I had the pleasure of asking Black a few questions about the show and the brand new network. Read his answers after the jump!
Who and where is Hayden Black?
I'm in Los Angeles but I come from Manchester, England and I'm very proud of my heritage. So proud, that my yorkie is called Salford – named for the city I was born and raised in. Salford is home to such music legends as New Order and the Smiths.

Where did the idea for "Abigail's X-Rated Teen Diary" come from?
I was watching some random video blogs and thinking that they were pretty boring – but from a production perspective, they were incredibly cheap to make. So naturally, my next thought was "What if I did a scripted one?". I'd been toying with the idea of making a bitter-sweet comedy about growing up an ugly duckling in the 21st century – and 5 minutes later, the entire idea for Abigail was born, virtually fully-formed.
Can you tell us a little bit about your character in the show, Abigail?
Abigail is the ultimate outsider – but what makes her so different is that she refuses to be seen as one. She's happy, (for the most part) confident, and funny. She's also very innocent and a little naive.
How has the reaction to "AXTD" been?
Unbelievably brilliant! She was just named one of the Best Podcasts of 2007 by iTunes, and we've gotten over a million views in less than 3 months. We've also gotten lots of amazingly clever and well-produced video responses from fans (which we encourage by putting the best ones on the main feed). It seems to resonate most deeply with women, especially those in high school and college – and I think that that age group is probably the one where women feel most like an outsider, thus can relate to it better. The only thing that worries me are the emails from people who think Abigail's real.
What is your favorite episode of "AXTD" so far?
Where Abigail's mom (played by the amazing Marypat Farrell) screams at her for going into the women's bathroom at the movies and getting arrested. But if you're looking for an episode to start with, try any of the "Abigail's X-Rated Week" shows as they showcase a bunch of mini episodes in one slightly bigger one.
As the writer, producer, and star of several web series, you're in a very unique position right now. What do you think are the advantages of online entertainment vs. television and cinema?
I think the biggest advantage is immediacy; both the immediacy of producing something quickly and getting it up online to the immediacy of reactions from your audience. For a very impatient person like myself, that's great!
Why did you decide to create a companion social network?
Abigail lives in our world and speaks and interacts with real people. She's recorded episodes where she answers genuine viewer mail, etc, so it only makes sense for her to have a living, thriving community where people can talk to her, email her, etc – and have her respond immediately. Abigail welcomes everyone into her world; there's no judging, no criticizing!
Why did you choose Ning? Which features and aspects of the Ning platform do you find most useful to you, both as Abigail and as Hayden?
I think Ning can offer a lot to people who want to interact with the shows they like. This isn't TV where you send a piece of fan mail to someone's agent and hope that someone sees it; this (the net) is a space where you can talk DIRECTLY to the actors and writers, and Ning helps bring us all together.
How has your network helped spread the word about "AXTD" and build a fanbase?
We only threw open the doors to our Ning site a week or so ago but I'm hoping it will become a real home for Abigail's fans. We're tweaking all the time, but I really want this to be a place that Abigail fans make their own. Upload your pix, your videos, blog about whatever comes to mind – because I want to see it and so does everyone else!
What plans do you have for Abigail's future?
I'm already in talks to bring Abigail to TV which will add to the mix (she's never going to leave the net; instead she'll co-exist harmoniously on all platforms). But I want to see Abigail on mobiles, in books, at the movies…There's no reason why this gorgeous little freak with a heart of gold shouldn't be out there making people smile.
Come join Abigail's network and be a part of her world!