For People Who Love Raw Food
Ning Network Spotlight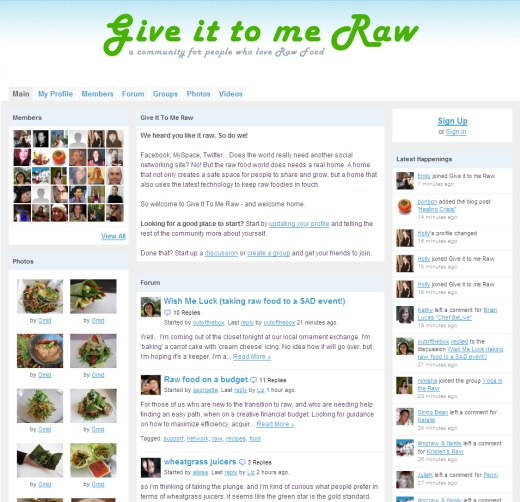 Give It to Me Raw is an active network for raw foodists. Raw foodism is a way of eating that emphasizes eating unprocessed, uncooked foods that have not been heated above a certain temperature. Network Creator Dhrumil has set up the network to accompany his raw food blog, We Like It Raw.
Though the network is only a week old, nearly 400 members have already joined. They've created over 50 groups, including those for people who are Raw in College, Juice Feast Enthusiasts or Raw Food Chefs.
Give It To Me Raw is also a great example of a network that has taken advantage of our premium services. They're using their own domain name, which costs $4.95 per month. They've also paid to remove the ads and have replaced that space with the Latest Activity feed. This allows people to see what's happening around the network no matter what page they're currently on.
If you're in the mood to look at pretty photos of food, this network offers over 700 pictures that members have uploaded. To whet your appetite, here's a taste of the photos you'll find on Give It To Me Raw: