MyCorgi.com: A Network for Welsh Corgis & Their Owners
Ning Network Spotlight
Can dogs use a social network? It would seem so by the looks of the members page of MyCorgi.com, a network for Welsh Corgis and their owners. As the owner of 3 adorable corgis, I was especially excited to discover this network on Ning.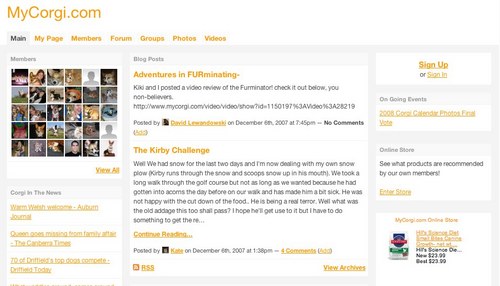 MyCorgi.com has a very active forum, where you can discuss anything from basic breed info to your corgi's health to "What makes your corgi go completely bonkers?" Members have also set up regional groups where you can meet corgi owners in your neighborhood.
This network has over 2000 photos. Like all networks on Ning, MyCorgi.com has its own branded slideshow widget that members can embed on their own websites to drive back traffic to this network.
Finally, it's a great place for holiday shopping. If you're looking for a present for your corgi, MyCorgi.com uses our text box feature to link to the MyCorgi.com online store.
So, if you're a Welsh Corgi or an owner, check out MyCorgi.com to meet others, share stories and exchange tips about this breed.