Opera Center
Ning Network Spotlight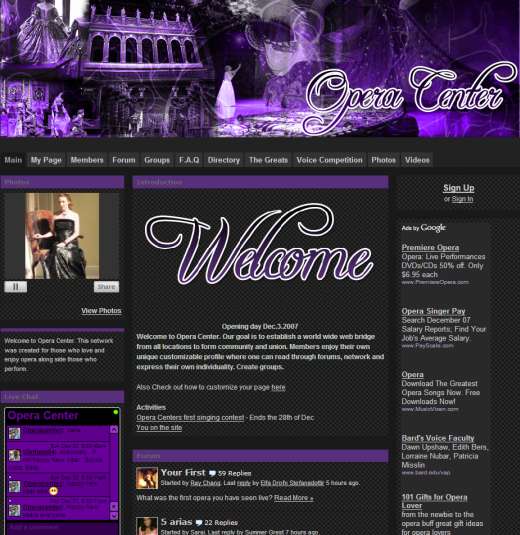 It is with a flair for the dramatic that Opera Center welcomes you.
As it should be, as Opera Center is a network "created for those who love and enjoy opera along side those who perform." Opera Center highlights performers throughout the network. There is a member of the week (congratulations Jeffrey Snider!) displayed on the main page.
Further down, the music player features an individual member's piece and pairs that with a biography alongside. Currently Gerard Fauvelle is featured, complete with his version of "Pourquoi Me Reveiller" by Jules Massenet.
Dulce, the creator of Opera Center, is also in the midst of a vocal competition, the first of many on the network. Members are posting either audio or video content of their own recordings, to be voted on by the community in the coming week.
Finally, there is a section simply named "The Greats" honoring landmark artists from the past, complete with a biography and video. The inaugural Great is Enrico Caruso, considered to be one of the greatest tenors of opera. And member Ray Chang agrees, "What a great way to start this site. With the foundation of all modern Tenors."