Blog365: The Ultimate Blogging Challenge
Ning Network Spotlight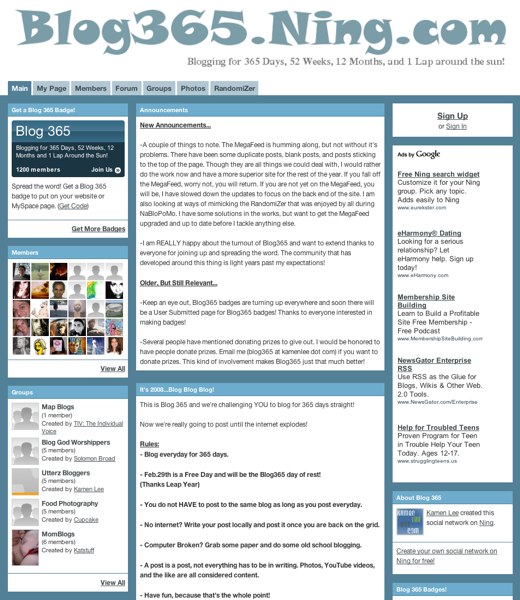 Blog365 is a network with one rule, and only one rule: write at least one blog post every day for a year. That's it.
Okay, so there are a few other rules – February 29th is a free day, length doesn't matter, a post can even be a photo or video – but the challenge lies in the simple act of posting every day for "365 days, 52 weeks, 12 months, and 1 lap around the sun!"
Taking cues from NaNoWriMo and NaBloPoMo, both annual writing events for the duration of November, Network Creator Kamen Lee decided to extend the challenge for the whole of 2008.
The network's already nearly 1300 members strong and still growing. Members have created over 150 groups. Many of these have active forums, like "Dork Bloggers" and "Bloggers who have no idea what got into them, or why they have joined this insanely impossible Blog365 mission". There are also over 12,000 photos so far!
Kamen is thoroughly enjoying the experience. "There is nothing better than being in a group that is kept fresh and new by continually updating the information and content being delivered," Kamen told us. "I have found that many of the Blog365 members are very interactive and doing things to support and extend that only makes the network better."
Check out the massive feed of daily blogs on the network. You might even decide to stick around for a while and join – if you're up to the challenge!