CAN 08: Africa's Soccer
Ning Network Spotlight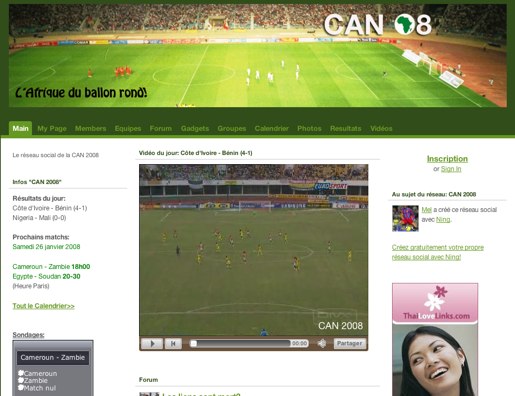 La CAN 2008 is a network all about the African Cup of Nations. Running from January 20th to February 10th, the African Cup of Nations is the football championship of Africa.
As a network that centers around an event, the Network Creators are making sure to update frequently. This morning, the main page was displaying post-match play-by-play from the Morocco-Guinea game (Guinea won 1 to nil with a goal by Feindouno in the 11th minute). Currently, it is featuring a video.
With members from all over the globe, this network is kicking on all cylinders. Members are uploading photos of their favorite footballers, having fiery discussions about the tournament and using their blogs to post their match-up analysis. Not only have the Network Creators added all the scheduled matches, but it's another great example of a network using the one of our fantastic translations.
So get your boots on and head over to La CAN 2008 for up-to-date info on 26th edition of the African Cup of Nations!