Cheap Eats Under $9
People Profiles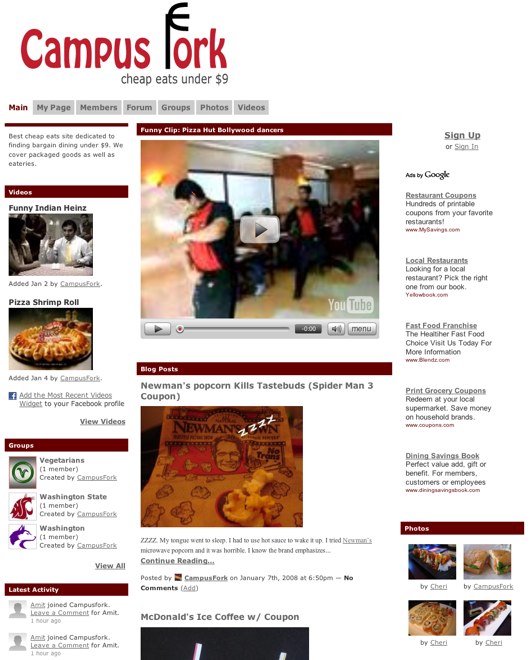 If you aren't in the mood to cook tonight and don't want to spend much money, Rayfil Wong has created the network for you: CampusFork.com.
He tailored the network's profile questions to his network, asking" What would you eat on your birthday dinner?" and "Your favorite Cheap Eat Place." Members are also active on the forum, suggesting additional restaurants and foodie spots like Escape from New York Pizza.
The network's branded slideshow player shows off the many tasty cheap eats from around the world. Enjoy:
We asked Rayfil a few questions to get the back story on CampusFork. After the jump, learn about the future of CampusFork and get inspiration to improve or start your own network.

Tell us about yourself and where you're from.
I am a native San Franciscan born in Hong Kong. I enjoy traveling to cities such as New York, Sydney, and London. The problem I encountered was finding cheap eats as a budget traveler. My recipe for a great Saturday afternoon is grabbing cheap burritos with a friend at a local taqueria.
Why did you create the network?
I created the network to help decrease my monthly expenses. With the high cost of gas and living in the Bay Area, I wanted to find cheap eats around town.
What's your favorite feature on CampusFork?
My favorite feature is the ability to add videos from Youtube. Campusfork has funny commercials from across the world about cheap eats.
What's been the most surprising thing you've encountered?
The ease of use for adding a text box and adding a widget. I have gotten compliments on the gas widget we use to help people find bargain gas.
What are you future plans for the network?
CampusFork plans to find food coupons for our members to decrease their food expense. Our goal is to provide an informational site on finding cheap eats for students, backpackers, or anyone on a budget.
Tell us what question you wish we'd asked, then answer it.
How can people contribute to Campusfork's "cheap eats movement?" People can join Campusfork and contribute by writing in the forums and listing restaurants serving cheap eats. We cover restaurants as well as cheap packaged goods like chips and sodas.