Shooting Faces: A Paintball Social Network
Ning's Tips and Tricks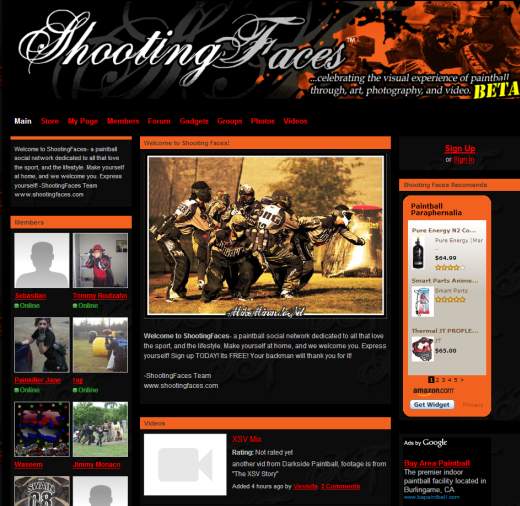 Popular new social networks are coming fast and furious here on Ning in 2008. One of the ones we noticed today was Shooting Faces, a somewhat interesting network name for a paintball social network. Here's the network description:
Welcome to ShootingFaces- a paintball social network dedicated to all that love the sport, and the lifestyle. Make yourself at home, and we welcome you. Express yourself! -ShootingFaces Team
There are many things to love about this network, including a great design, a great use of their own domain name, highly targeted ads, and an unique concept generally.
They are also taking advantage of the privacy option to only show the Main page of the network to visitors.
For Network Creators (but not Admins of a social network), you too can change your network's privacy settings on the Privacy page accessible from the Manage tab. When you click on it, you'll be taken to the Privacy page where you can see these options: (more)
Here you can make your network public where visitors can see everything or choose to just show them the Main page, as is the case on Shooting Faces. You can also make your network private, where only members can see the network. In the private option, you can also choose whether anyone can become a member or only invited people. We also offer the option to choose to review and approve prospective members before they join. This was another option often-requested by Network Creators, which we released in October.
Not only do we recommend checking out Shooting Faces, but we'd also encourage you to explore a few of the many options available to Network Creators and Admins in managing your network. Enjoy!