WheeledOnes.com: Giving Wheelers A Place To Connect
Ning Network Spotlight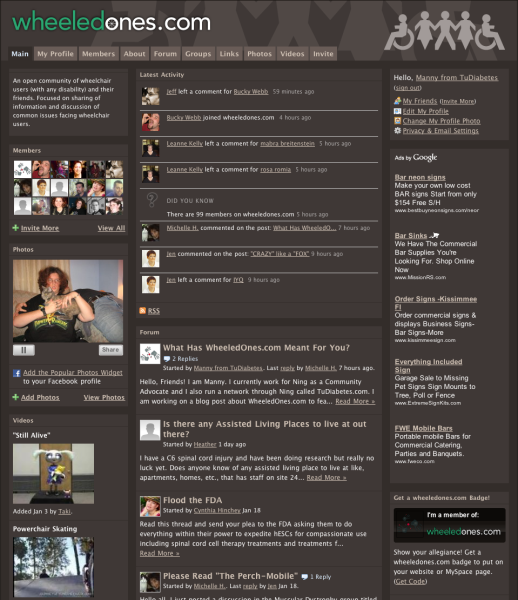 Normally, when you do something as simple as lifting a soda can, you don't even think about it. But Jeff, the Network Creator of WheeledOnes.com, does. He has Spinal Muscular Atrophy (type 2), a genetic neuromuscular disease that causes severe general body weakness. Because of this, he is a wheelchair user.
Chatting with us, he shared: "I found many, many disparate sites and communities focused on various specific disabilities." So Jeff started WheeledOnes.com to give wheelchair users a single community where they could interact and become friends with each other.
WheeledOnes.com is a great example of a network taking advantage of the features available.
Groups
Cook Nook, Computer N3rd5 and Motorheads are just three of the Groups existing in WheeledOnes.com. Jen, a member of the network, told us about this feature:
"… although this is a support group for wheelchair users, it is NOT TOTALLY focused on Disability. [It] is… for regular every day people who just so happen to require the use of a wheelchair."
Custom Logo and Favicon
WheeledOnes.com sports a slick logo in place of the network name text that beautifully matches the colors of their theme. Jeff has also added a favicon to the network, so it stands out a little more among your browser bookmarks.
Customized Badges and Video Players
This video message from Jeff shows how his network takes advantage of the ability to customize the Video Player. Similarly customized network badges let members show their WheeledOnes.com pride.
In the end, WheeledOnes.com and the tons of amazing networks that are getting developed work the way they do because of the people making them happen.
Jeff makes a point to personally welcome each new member of the community. Before long, other members picked up on this and began "welcoming the new folks, making them feel at home as I had done," he said. He certainly has created a great community feel in his network as one of the members of WheeledOnes.com commented:
"I belong to a few other disability sites and they are great for getting useful information on disability-related topics. But WheeledOnes.com has a much more 'social' and 'personal' feel to it. The pictures, profiles, blogs, etc. make me feel more connected to the people here."
What are Jeff's plans for the future? "There are 4 million wheelchair users in the United States alone… we've got 100 [members] so far… so [there are] only 3,999,900 to go." When you combine Jeff's passion and belief in what he is doing with the great features that the Ning platform offers, his goal appears well in sight.