A Virtual Basement for Red Eye Junkies
Ning Network Spotlight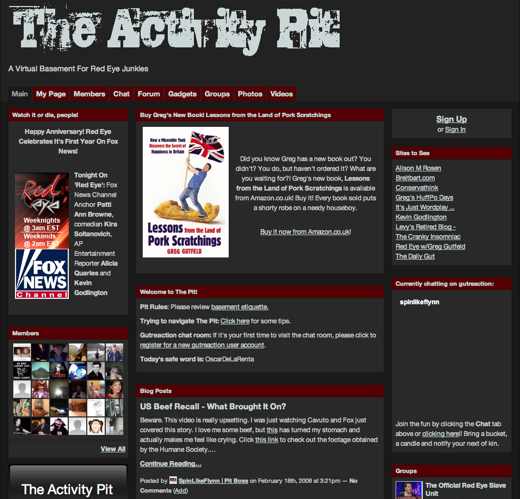 The Activity Pit is a spot for fans and contributors of Fox New's late night Red Eye w/ Greg Gutfeld. It is headed by the Pit Boss, Spin like Flynn, who relies on her administrators: the Pit Crew.
Everything on the site is designed to engage members, starting with the design. The top of the page has helpful promotional boxes, linking to the official show website as well as host Greg Gutfeld's new book. On the right, members have access to a blog roll — links to blogs relating to the network. Visitors are then welcomed with links to basement etiquette, navigation tips, chat information and a safe word of the day.

Unlike most fan networks, The Activity Pit is in a unique position, as some of the show's regulars, including host Greg Gutfeld, are members of the network. After the jump, Kimberly "Spin like Flynn" was happy to share some tips and stories from creating The Activity Pit.
How did you come across Ning and decide to create your networks here?
My great friend, Elaine Biss, launched an amazing network on Ning called Divapreneur, for women who own their own businesses. I loved what Ning had to offer and decided to transform my lightly traveled message board into a Ning social network. So was born my first community, Café Chronique, for chronically unique women living with chronic illness. I have been treating my insomnia with Red Eye w/Greg Gutfeld on Fox News for almost a year now and knew immediately the Ning platform would be the perfect host for our virtual basement.
What is your favorite aspect of being a Network Creator?
Ning was attractive to me right away because of how customizable and user friendly it is. You don't have to be an html whiz to create a truly unique network on Ning. I also love the features we can offer our members such as the capability to share videos, pictures and music not to mention the customizable profiles, blogs and forums discussions that our Pit Dwellers love. We have even incorporated a chat room into our network. We added a special tab for chat and, by simply pasting some code into a text box, we also have a live glance at who is chatting visible on every page.
Has anything surprising happened on, or as a result of #?
The night The Activity Pit network was created, I sent an email to Greg Gutfeld. Within days, Greg Gutfeld, Bill Schulz and Andy Levy had all joined us at The Activity Pit, along with some other regular Red Eye guests. Bill Schulz, who met Gutfeld working at Stuff Magazine is now most commonly known affectionately as Greg's pathetic sidekick on Red Eye. Andy Levy, an Army veteran and former publicist, is Red Eye's ombudsman. Andy checks in with the group for a Half-Time Report midway through the hour and then again for a Post Game Wrap-Up at the very end of the show, keeping Greg, Bill and their guests on their toes and calling his cohorts on any factual inaccuracies.
What are some other Web sites you visit daily?
The Daily Gut at www.thedailygut.com, Breitbart.com at www.breitbart.com and the Red Eye w/Greg Gutfeld Web site at www.foxnews.com/redeye.