Beam Me Up, To TrekSpace
Ning Network Spotlight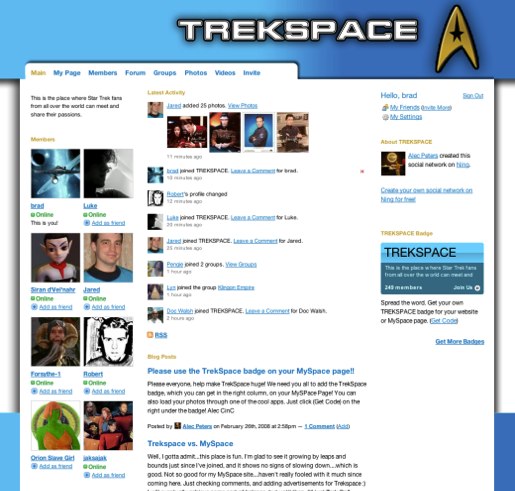 TrekSpace is a new network devoted to all things Trekkie.
From the fiercely logical Mr. Spock from the original series or the devious Garak, the Cardassian spy and resident tailor of Deep Space Nine, the Star Trek franchise has seen many memorable characters over the years. For each character from the show there's a group of devoted fans on TrekSpace, uploading photos that show off their devotion through costumes and memorabilia.
While the photos are great, the forum is where the action is. Alec, the Network Creator, favors the "new school." He's a huge Deep Space Nine fan, but he's created categories that cover the entire Star Trek universe. You'll find spirited discussion about The Original Series, The Next Generation, Deep Space Nine, Voyager, Enterprise, the Star Trek Movies, Star Trek: The Animated Series and more.
TrekSpace has ditched the standard network name text in favor of a more engaging banner image. As Alec explains, the Main page "can be simple, but a few unique graphical elements will set you apart and brand your network." Another technique Alec has used to help grow his network is placing his vibrantly colored network badge prominently towards the top right of the main page. This allows his members to show off their allegiance to both Star Trek and TrekSpace wherever they are on the web.
If you too share a love of all things Trek-related head on over to TrekSpace.