Brazilians' shortcut to learning English
Ning Network Spotlight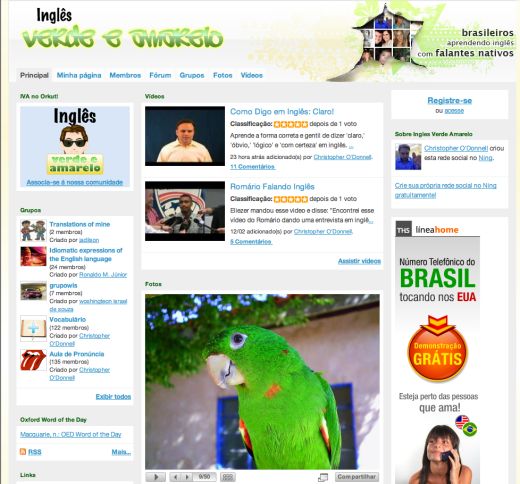 Verde e Amarelo (green and yellow, the colors of the Brazilian flag) is a fast-growing social network set up by Christopher O'Donnell to help Brazilians learn English, by connecting them with native English speakers who are interested in Brazil.
Below their colorful custom header lies a rich network set up in Portuguese, with which O'Donnell has leveraged the full power of the Language Editor. Besides communicating with his members through text, O'Donnell has embraced video blogging as a truly high-tech way to connect with his members.
Verde e Amarelo takes advantage of the Groups feature in unique ways. Its Vocabulário (Vocabulary) group helps members improve their English vocab through the use of third-party online flashcards. Another fascinating use of Groups is the Aula de Pronúncia (Pronunciation Classroom), where group members read text aloud into their webcam. Then Christopher responds to them using video with pronunciation tips. A one-to-one lesson and a community experience bundled together!
As a Network Creator, Christopher takes advantage of available technology as much as he can to better manage, monitor and promote his network:
He syndicates his valuable video content to other Web sites.
He watches his network in action through the use of the Latest Activity feed.
He closely monitors his Google Analytics, looking at metrics such as page views and loyal visitors.
So, whether you are a native English speaker planning to visit Brazil some time soon or you are a Brazilian polishing your English, make sure to pay a visit to Verde e Amarelo. Chances are they will say to you: muito obrigado! ("Thank you," in case you are wondering.)