GAX: Where Gamers Hang Out
Ning Network Spotlight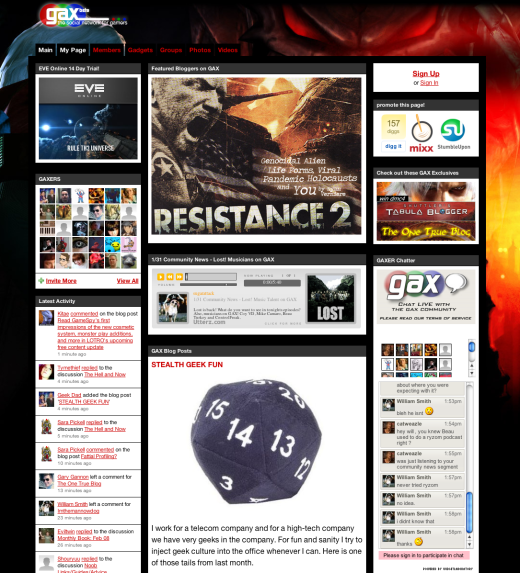 Stunning graphics. Featured bloggers and podcasts. Over 150 interest groups. These are some of the things that await members of GAX, a social network for gamers.
At well over a thousand members, GAX – the social network for gamers, is turning into a popular destination. GAX was founded by Gary Gannon to offer people who play games a space to hang out, "THE coolest place for Gamers to hang out," in his own words. With close to two thirds of American heads of households playing computer and video games, according to ESA figures, he will have no shortage of potential members to invite.
Gannon found out about Ning as he was looking for a new home for GAX. When asked what aspect about Ning had helped him the most in the development of his network, he didn't hesitate: "… the ease of setup to get up and running fast."
According to Gannon, numerous bloggers started writing on GAX exclusively as soon when they saw the new network. When he saw this happen, "that's when I knew that we really had something special going on," he admitted. He features blog posts on the home page of the network as he unearths hidden gems from the blogs of his members.
The largest of his interest groups, with close to 500 members, serves as a home for The MOG Army, otherwise known as the fans of Massively Online Gamer, one of the network's featured podcasts that he's producing on a regular basis since late 2006.
GAX has removed the Ning logo from the top of the social network and taken advantage of the "Remove Ning Promotional Links" premium service while running as a standard network. They are also using their own domain name. These are examples of the level of customization they've accomplished while continuing to benefit from all the regular updates done to the Ning code.
So, next time you need to find out about games about alien life forms and viral pandemic holocausts or if you have an idea for a new MMO game, consider joining GAX so you can share it with this growing social network of gamers.