Hillbilly Protection: For The Mountain Boarder In Everyone
Ning Network Spotlight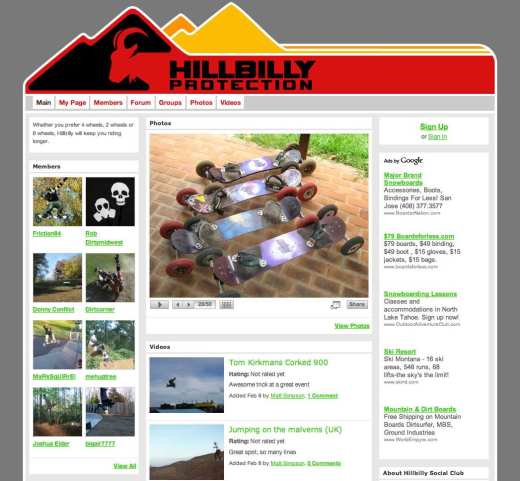 The Hillbilly Social Club is dedicated to the gutsy sport of mountain boarding. Designed for the sharing of hucking huge airs and bombing down muddy hills, this network is gaining some serious speed!
Mountain boarding, also known as dirtboarding, takes a lot of courage, and the members of this network have plenty of it. With a high level of participation, Hillbilly Protection is filled with homemade videos of members displaying their best stuff. There are also plenty of pics that will make you want to hit the hills on a new board!
The network creator has added a well designed header to make things very attractive. While the network is already looking good, the network creator is happy for the members to help with the design:
"If we have any designers out there who want to try their hand at tweaking it…tweak away!"
So if you think you've got what it takes to pull a 720 Stale air off an 8-foot kicker or want to watch someone else try, head on over to the Hillbilly mountain boarding social network!