Improv Everywhere: We Cause Scenes
Ning Network Spotlight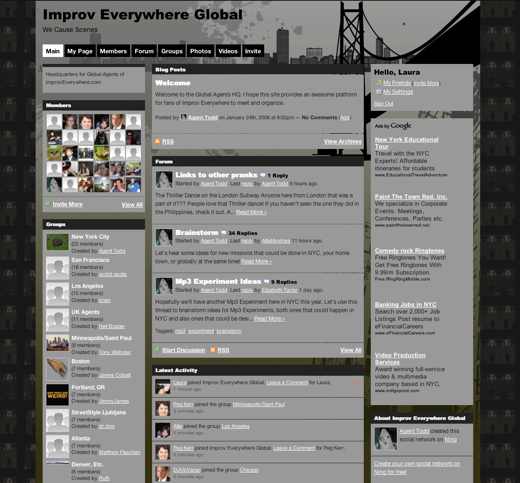 Founded in 2001 by Charlie Todd, Improv Everywhere stages missions, such as Synchronized Swimming and MP3 Experiments, pranks that are "about making someone laugh, smile, or stop to notice the world around them." Agent Todd recently expanded the online presence of the organization to include a headquarters for Global Agents.
If you haven't already heard, Saturday, January 12, 2008 was the 7th annual No Pants! Subway Ride, in New York City. Nine-hundred people gathered to take a pantless ride, celebrating the chaos and joy that is Improv Everywhere.
The most recent No Pants! Subway Ride included participants in nine different cities from three different countries, so Agent Todd created the Global Headquarters to "have a dedicated site for folks around the world who are interested in organizing and staging their own Improv Everywhere-style missions."
Look Up More after the jump…
Improv Everywhere Global uses classic features to provide unique content. Using a text box on the main page, an awesome Frappr Map widget displays the location of Agents around the world. Members are further combined into Local Groups ranging in location from Denver, Etc to The Netherlands.
The network's background comes from a classic Improv Everywhere mission. Taking advantage of the embeddable badges and widgets, the Improv Everywhere network is prominently represented on the original website.