Live Pink: "A Creative Lifestyle"
Ning Network Spotlight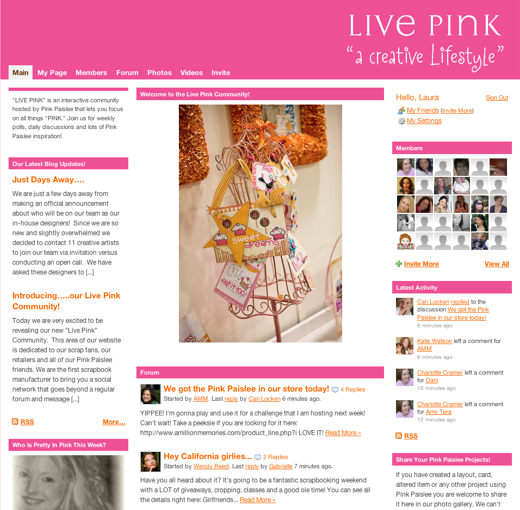 Live Pink is the interactive home of Pink Paislee, a company that provides products to enhance scrapbook and design creations.
Network Creator Rebecca describes it as a place where Pink Paislee fans "can get to know us and share their art projects with others who love our products. Our network is all about expressing a love for scrapbooking with an emphasis on the products our company manufactures."
Live Pink provides a number of ways for members to share and interact, including videos, polls, photos, a weekly member spotlight and forums. Not surprisingly, one of Rebecca's favorite features is the ability to add multiple text boxes, because of the versatility this allows.
"I love that I can add text boxes directly to the home page, giving us the option to include hyperlinks and images," she said. "We can use these for virtually anything we need!"
The creative approach toward using the network is reflected in member designs as well. Slideshows are terrific for showing off Pink Paislee products as well as member creations and designs:
If you're interested in Paislee Products or want to exchange scrapbooking tips, spend some time exploring Live Pink!