NOW You Are Ready for SxSW '08!
Ning Network Spotlight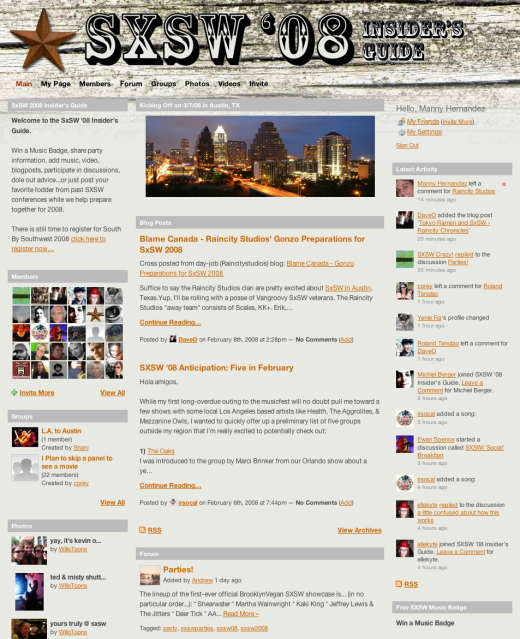 It's not just the amazing bands that play, the brilliant minds of the interactive world that converge or the tons of independent films you get a chance to discover. Those things are of course of a big part of what South by Southwest, nicknamed SxSW and held in Austin, Texas, is all about. Yet, it is the people that make the annual trek that have turned it into what it is today.
Since 1987, SxSW has been putting on a one-of-a-kind conference and festival that combines the best of what's happening in music, film and interactive media (plus their parties have a pretty well-earned reputation around the world). But, with more than a week's worth of panels, festivals, concerts and other happenings, it's easy to miss things.
To help everyone make the most of the conference, this year we have SxSW '08 Insider's Guide, a social network on Ning to help attendees share tips, music, video and post their fondest memories from past SxSW conferences for the benefit of everyone planning to go to Austin, March 7 – 16, 2008.
The Insider's Guide for this year's SxSW Conference sports numerous features that network creators can take advantage of. From the gorgeous old West-style header that adds Texan flavor, accomplished by customizing the network's appearance, to the branded music player featuring music from some of SxSW's artists, the network seeks to make new SxSW attendees feel welcome. And it seems to have succeeded in its goal, as members haven't held back their praise:
"So far, [the SxSW Insider's Guide] has been one of the only places I have found useful to find other first timers with similar interests."
Corey Denis, community manager for the network and a SxSW veteran herself, wanted to link the film, music and technology communities online before the actual conference. "The forum and profile pages have been the best features," Corey said. "I also like the ability to add third party widgets." They have added a Twitter feed, so anyone can watch the SxSW twitters at SxSW.ning.com from around the world if they can't actually be at the conference. They are also adding a calendar with all the parties, shows and events they can get their hands on.
So whether you are a newbie in the whole SxSW scene or if you want to rub elbows online with the likes of Internet Rockstar Ben Brown, Scott Beale of LaughingSquid fame or Vancouver's Raincity Studios, make sure to join the SxSW '08 Insider's Guide.