Obamacycle: Recycling Campaign Materials on Ning
Ning Network Spotlight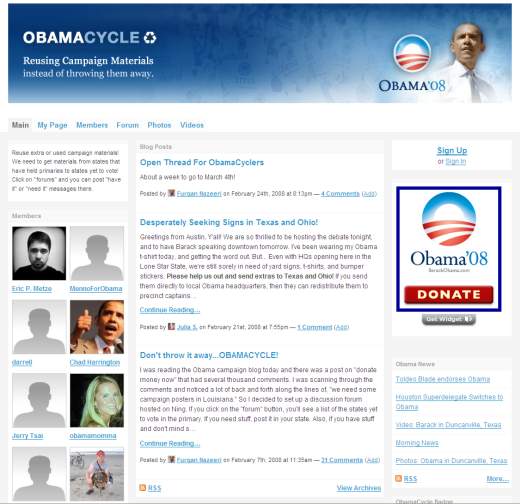 Our driving goal with Ning is to provide software that enables people the freedom to create. Here at Ning HQ, we love seeing new social networks on Ning pop up that we would have never thought of on our own. Happily, this happens a lot.
Obamacycle.com is one of those social networks that once you see it, it makes complete sense.
Featured yesterday in Wired as "A Craigslist for Obama Campaigners", Obamacycle.com was created by Furqan Nazeeri, an entrepreneur working just outside of Boston to enable the supporters of Illinois senator Barack Obama to re-cycle their campaign materials. Today there are over 873 members of the network and the focus is on the upcoming Texas and Ohio primaries.
I love the photos on Obamacycle, which bring the network's purpose to life:
Hopefully other campaigns get into the same recycling spirit but I think they'll have to work harder at coming up with their own witty term. Somehow "McCaincycle" doesn't have the same ring to it…