Pulling back the curtain on Magicians.com
Ning Network Spotlight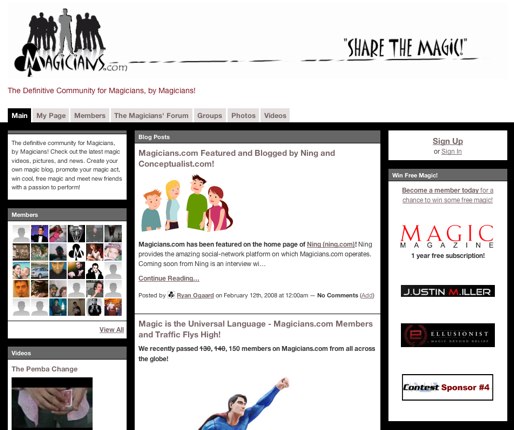 Good magicians never reveal their tricks. However, that doesn't stop them from networking.
Ryan Ogaard pulled back the curtain in December 2007 and unveiled Magicians.com in the hope of giving magicians a place to exchange tips and stories. The network has since seen steady growth. It's now sporting more than 140 members from all over the globe and has even been featured on Conceptualist.com.
"The best part has been in seeing my dream for the past decade become reality
by creating an online community for magic enthusiasts from around the world
at Magicians.com," said Ogaard. "It has truly been a magical experience developing Magicians.com on such a
powerful social network platform like Ning!"
One of the main advantages of the Ning platform is that with tons of ready-to-go features, Network Creators and members can focus on the magic. Magicians.com, of course, has been no exception.
The network's forum is abuzz with chatter. Many members use the forums to introduce themselves to the network, and some have used this opportunity to share unique stories about how they got started in magic. Others describe their favorite tricks or style of performance (street or private shows?).
Of course, if Magicians.com members really want to share the full experience of their craft, they can upload a video. Members have posted dozens of videos, from coin tricks to their own show performances. Best of all, they can easily give each other feedback on the magic by leaving comments on the videos.
The network itself has been a long time coming. Ogaard has been a fan of magic since he was 8 years old, and — with David Copperfield and Vegas magician Mac King as inspiration — has become skilled in the craft himself.
"I am thoroughly enjoying
participating in and watching how the network is uniting people passionate
about magic and creating opportunities for them to learn, play, promote,
socialize and grow in the craft," he said.
Ogaard didn't hint as to what the future holds for Magicians.com — besides continued growth, of course — but he did promise to "pull out
every trick up my sleeve" for his members.