Small car, big network
Ning Network Spotlight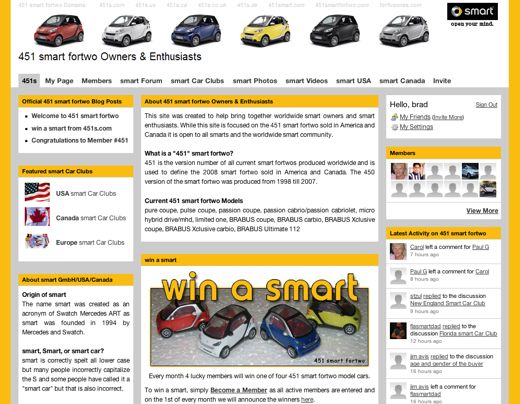 451s is a network built around the latest addition (version 451) of the smart fortwo automobile.
The car that has generated one of biggest splashes in recent years is also one of the smallest. It attracts a passionate following of owners and enthusiasts. This enthusiasm can be seen in the active forums where members discuss how to get the most out of the smart's diminutive engine and swap parts and accessories.
Unlike many cars, the same version of the smart fortwo is sold all over the world. This is represented on 451s with the inclusion of smart Car Clubs which features groups for owners from the USA, Canada, Mexico, Europe, Oceania and Asia/Middle East.
It is clear that the creator of 451s has done significant work on the design of the network, which reflects the smart brand. He has chosen a very clean palette featuring the smart logo's silver and yellow color scheme and has even used the logo as the network's favicon. To further customize the network, the Language Editor has been used to tweak the names of different sections of the network. For example the "Groups" tab has been renamed "smart Car Clubs".
Of course, what car-centric network would be complete without a ton of photos? 451s delivers with its members posting photos of all sorts of fortwos. Check 'em out:
If you own a fortwo or would just like to scope out some pictures of the pint-sized cruisers, swing by 451s.com.