The Ghetto Gourmet: A 21st-Century Dinner Party
Ning Network Spotlight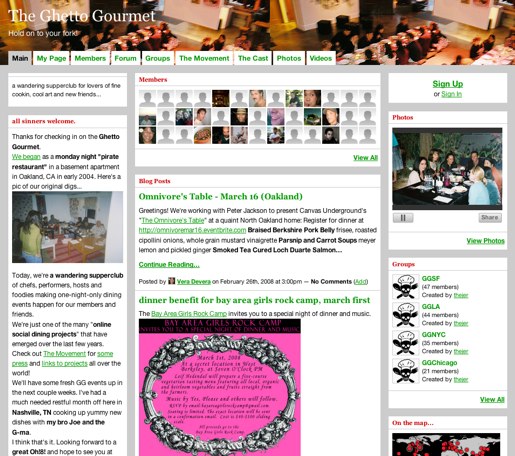 The Ghetto Gourmet is a network for "for lovers of fine cookin, cool art and new friends." The network is for those who have participated in or wish to participate in Network Creator Jeremy Townsend's underground dining movement.
Jeremy's "movement" is based on the concept of uniting strangers. The goal is to bring people together from the Internet for a completely face-to-face dinner party. Meals are served on the host's living room floor, and most events bring nearly 50 people in for a grand meal. While the idea may not appeal to everyone at first, Jeremy explains on his network:
"I never had a single uncomfortable situation, never had an unruly guest and never even broke a glass in the dining room, except when we were banging on them in unison with spoons playing along with a musician," he wrote.
Over 1200 members have joined the network to date. The network allows participants to share photos, better advertise upcoming events and stay in touch after the events. And that's very important, for as Townsend notes that "At least two relationships that began at The Ghet have led to marriage … I've tried not to think about the endless ripple that radiates from these events."
To create those ripples, members have created groups to connect with other interested hosts and dinner guests in their areas. There are groups for San Francisco, Chicago, Nashville and many other regions. On the Forum, members share ideas for different social dinner party themes and food suggestions. Jeremy even added new pages — The Movement and The Cast — and a favicon.
Of course, no dinner party would be complete without photos. Jeremy's members have surely taken advantage of Ghetto Gourmet's photo section to share the evidence of their encounters.
So "Hold on to your fork!" and get ready for good times, great meals and new friends. Join Ghetto Gourmet today!