200,000 Networks on the Ning Platform!
Ning News
On Saturday night, we passed 200,000 social networks on the Ning Platform! We're now seeing 0.5% daily social network growth, or over 1,000 networks per day: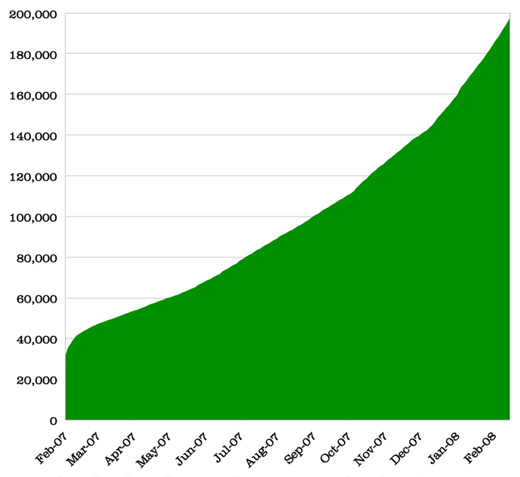 For those of you new to Ning, we focus on the number of social networks as the primary public metric we share. Why? Because it is the leading indicator of how fast people around the world are adopting the Ning Platform.
As social networks on Ning increase, so do users, unique visitors, and, most of all, page views. In fact, the daily growth of users (at over 1.0% per day) and page views (at over 1.5% per day) far outpace the daily growth of networks (at 0.5% per day).
Over 70% of the 200,000 social networks on Ning have been actively used in the past 30 days and less than 1% of our networks — or roughly 2,000 — are in our Red Light District. This continues to follow the power law distribution curve of usage that we've talked about in the past.
We're thrilled with not only the rate of adoption of Your Own Social Network for Anything but the sheer creativity and range of what people are doing with their own social networks each and every day. While 3rd party sampling services like comScore or Compete show a fraction of our progress (primarily because the most popular networks on Ning are domain mapped), the view from inside makes every day — even the bad ones — feel like a holiday.
Thank you for making this such a fun and amazing ride. It would be no fun without you.