20 Something Bloggers
Ning Network Spotlight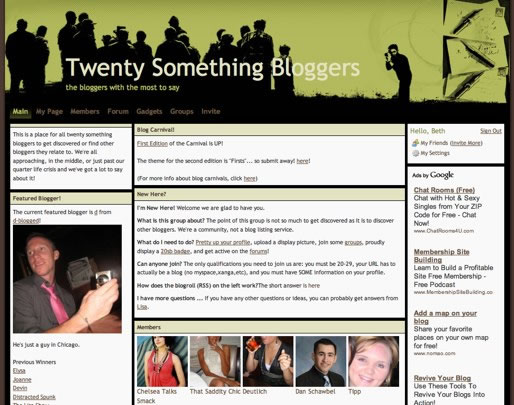 20 Something Bloggers is a network for young bloggers to come together and talk about, you guessed it, blogging.
For these writers, it's no surprise that one of the most popular features is the forum–where members discuss everything from whether a new job demands a new blog (so those pesky and perhaps too revealing posts from your interviewing days won't be quite as easy-to-find) to the impact of a domain name.
Given the public nature of blogging though, it's also no surprise that "getting discovered" is another major aim of the network. Bloggers can easily promote their work on their profile pages, answering customized profile questions like "Fill in the blank: 'People who like ______ will love my blog!'" Members can meet and discover like-minded bloggers through the many active groups on the network, now more easily browsable in the newly redesigned groups page.
Members are also eligible to take part in the Semi Annual 20SB awards. The latest round of awards were announced in February, in categories that included "Best Title," "Best Design," and "Most Sincere." Winners are featured on the Main page of the site.
With all the creativity flowing, this network has a huge variety of member profile pages as well. People are taking advantage of the customization options available to them—often matching their network profile page design to an external blog.
Find some interesting, new 20 something blogs for yourself—go check out 20 Something Bloggers.