Affordable knitting on Knit Picks
Ning Network Spotlight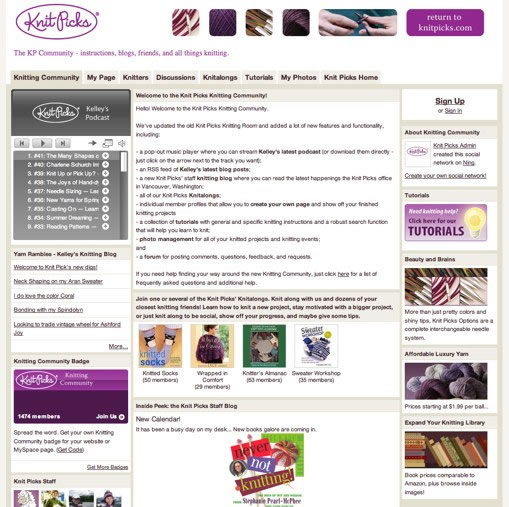 Knit Picks began in 2002 with the goal of bringing people quality knitting products at affordable prices. The retail site features innovative products that founders Bob and Kelley Petkun create in conjunction with yarn mills and needle makers, while their network brings their passionate staff and customers together to talk about all things knitting!
More than 1,500 members (or "knitters" on this network, thanks to the handy-dandy language editor) share their thoughts on Knit Picks needles and yarns. The forums also allow members to give feedback on Kelley's weekly podcast, which is included prominently on the main page of the network using the music player.
Members of the Knit Picks staff are regular contributors to the network, and easily identifiable by the Knit Picks logo that they've added to their profile pictures. And while she might qualify as more of a mascot, even Xena, Kelley's adorable pomeranian, is part of the fun. For new knitters, there are tutorials for help with yarn weights and stitch patterns. And for those knitters just needing a little group motivation, the Knitalongs can help keep your project moving along.
Knit Picks is a great example of how a company can engage customers on a whole new level, bringing people together online to share their passion!