Babble Playground: A social network for families
Ning Network Spotlight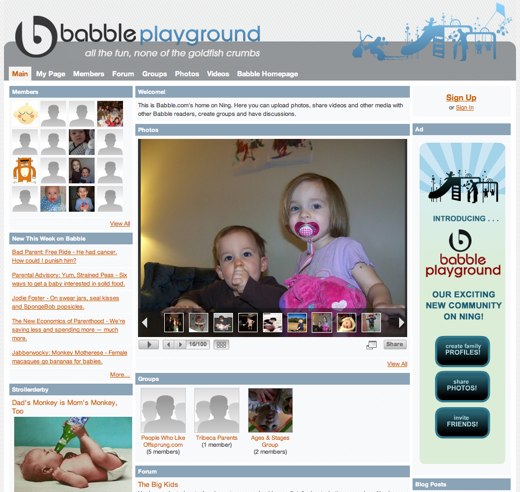 Babble Playground is a new network launching this week as a companion to Babble, a magazine for "a new generation of parents."
Babble's goal is to tackle parenting with "irreverent honesty" and treat parents "not just as caregivers, but as fun, smart, intellectually curious people." This is the magazine of the young, hip parent. It's also one of the National Magazine Awards 2008 Finalists for "General Online Excellence."
No surprise, then, that Babble would continue to provide new and interesting resources for its readers. Enter the Babble Playground.
The network aims to be a place where families, not just individuals, can create profiles. Check out the profile for the Griscom Volkman family, also known as Babble CEO Rufus Griscom and VP of Sales and Marketing Alisa Volkman, and their two children. This is a unique opportunity for families, as well as a new and different use of a social network, to connect with like-minded parents.
After creating a profile on the Babble Playground, parents can upload photos and videos of their children. The forum is an excellent place to discuss the trials and tribulations of parenting. The network is a great place for parents to meet, support, and share with each other.
Babble Playground is just getting started. Head on over and be a part of the fun!