Barnmice
Ning Network Spotlight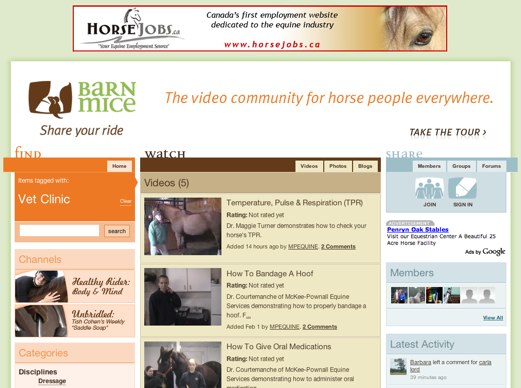 Barnmice is described by its creator, Barbara Fogler, as "a fun and engaging neighborhood for horse lovers around the world." This active community celebrates all things horses, and includes an extensive collection of videos on everything from yoga stretches for riders to what to look for in a horse.
There is a video Vet Clinic with practical advice from top veterinarians on how to bandage a hoof and how to give oral medications. Plus, a Healthy Rider video channel for tips on keeping in top physical form.
The network also features a "saddle-soap" by novelist Tish Cohen. Each week, a new installment of Unbridled is published exclusively on the network.
With all this great information, it's no wonder that the community is going strong. Over 400 members have gathered so far to share their love of horses. Go saddle up and take Barnmice for a ride!