Celebrate life at JensLove
Ning Network Spotlight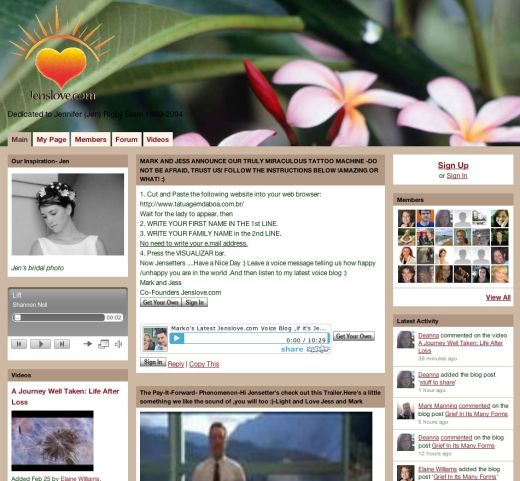 One of the toughest moments in anyone's life is the loss of a loved one. While it is often a time when you want to be alone, it is also a time when we can use company and support. That is precisely the goal behind Jenslove, a social network created to help you move through the stages following a loss.
Jessica, the co-founder of the network, lost her sister Jen in 2004. This served as the inspiration to her and Mark, her co-founder, to create a space for others to celebrate the lives of lost loved ones.
The network's video section is a magnificent repository of tributes and lessons in grief and recovery from the pain that death leaves behind. This video posted by the co-founders explains the vision they have for the network:
Members of Jenslove blog about grief, bereavement and the complex emotions they deal with getting to the point of acceptance, as they leave words of encouragement on each other's comment wall.
If you are going through the tough times following the loss of a loved one, dedicate a page to them at Jenslove. You don't need to take on that burden all by yourself.