Composer's Forum
Ning Network Spotlight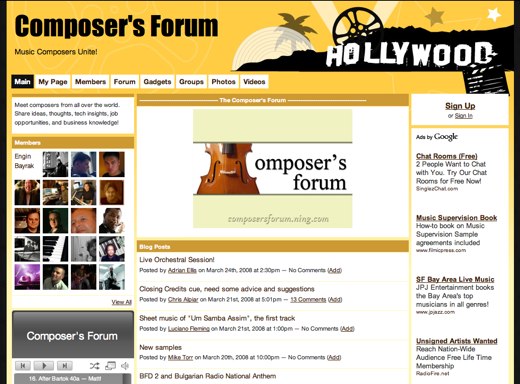 Composer's Forum is a network that brings together a wide spectrum of composers to share ideas, insights, job opportunities and business advice—from game composers to orchestrators and arrangers and classical music composers.
Commentary and feedback from one's peers is important for any creative artist, and the composers at the Composer's Forum have come up with a great way to use discussion posts to do this. In the
Music Dissection forum, composers can post an audio file to solicit feedback.
Members are also using their individual blogs to get feedback and suggestions, like this discussion on how to work with closing credits. People also use the music player to add samples of their work to their profile pages, as featured composer James Semple does on his page.
For anyone looking for a little distraction from their current project, there is an ongoing project to write the world's longest piece. Maybe after contributing a few bars, it will be easier to get back on track with that commercial jingle or classical masterpiece!