Connecting with culture at African Path Village
Ning Network Spotlight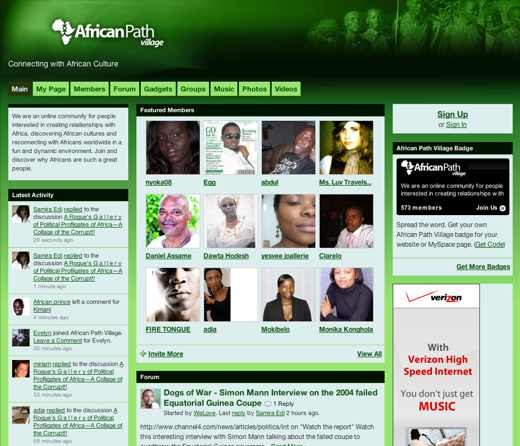 African Path Village is a network where people can discover African culture and reconnect with Africans around the world.
The forum is the best place to connect. In particular, the Business and Entrepreneurs category consistently has up-to-the-minute and in-depth conversations about African business news. Head on over and share your thoughts on the "Late entrant strategies for Visafone and Etisalat in the Nigeria Telecom Market."
The network extends beyond business into culture, with groups such as African Filmmakers, created for members to discuss and "define African cinema in African terms." By experimenting with the feature to add additional pages to your network, African Path Village has created a home for African music as well. The videos section is filled with live concert footage from African musicians throughout the world.
African Path Village is taking advantage of the badges and widgets available, offering Facebook widgets for photos and music. The network badge is prominently displayed for members to share as well. The network badges and widgets are, of course, branded with the African Path logo.
So follow the African Path and start connecting!