Enter the aquatic world of ReefSpace
Ning Network Spotlight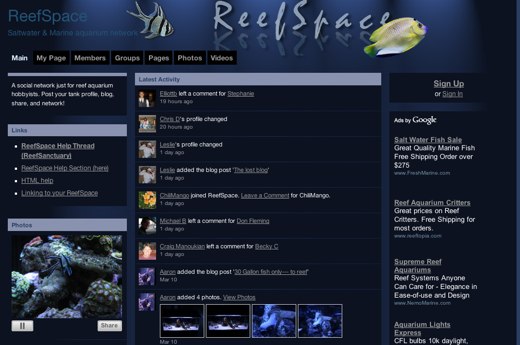 ReefSpace is a network for reef aquarium hobbyists. The network was started by Network Creator Travis Staut one year ago as "an experiment" and has grown to close to 300 reef aquarium enthusiasts.
Blog posts and groups are the network's main avenues for connecting with fellow ReefSpace members. Travis has customized his network's main page appearance with an aquatic theme and taken advantage of Domain Mapping to run the network of his own domain.
Of course, people love reefs for their looks, so members have taken full advantage of the media uploader. There are plenty of aquatic photos and videos, beautifully captured by members of the network.
If you're feeling inspired to build yourself a 30-gallon reef aquarium, perhaps this video will entice you!