Find the fighter in you at BJPENN.com
Ning Network Spotlight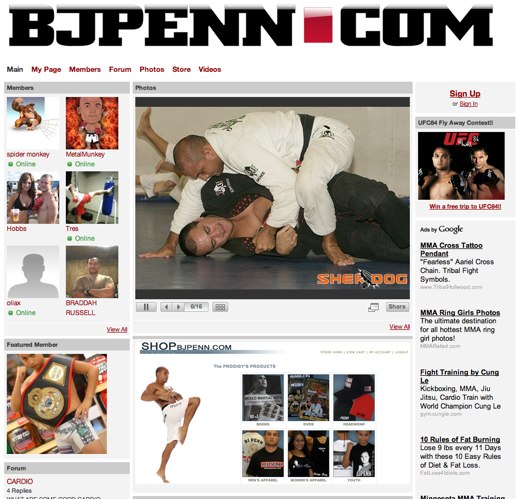 BJ Penn is a Mixed Martial Arts fighter who specializes in Brazilian Jiu-Jitsu and Boxing. Fans of the American Ultimate Fighting Championship will recognize Penn as the current UFC Lightweight Champion, and in January, Penn became only the second man to win UFC titles in two different weight classes. BJPENN.COM is his official home on the internet.
If you're new to MMA, the forum is a great place to learn how the fighters and enthusiasts who congregate to this sport view it as much more than brutish combat. While you'll find discussions about how to prepare for a fight and how to develop burst strength, you'll also see posts discussing how good nutrition can benefit a fighter and even what types of yoga offer the most Jui-Jitsu benefits.
The network's members are highly engaged, not only with what Penn is up to, but also with each other. In the photos section members like to post photos of themselves competing in a range of athletic pursuits. And from the sheer volume, you can tell the members of BJPENN.com get full use out of the video feature. Members show off songs they've written and clips they took at the Pro Bowl in Penn's home state, Hawaii. But the most popular videos are the ones that come straight out of Penn's training facilities, like one showing how to surprise your opponent with a throw.
Penn is a versatile fighter and has fought in various MMA events around the world. With his proven track record, his knowledge and techniques are highly sought after by young fighters, a fact he doesn't take for granted. He runs his own training facilities and was a coach on the reality TV show "The Ultimate Fighter 5." His training videos are featured prominently on the main page of his network:
Whether you're just curious about brushing up on your self defense skills, or you're already a serious MMA fighter, everyone's welcome at BJPENN.com.