Finding the Irony Plus
Ning Network Spotlight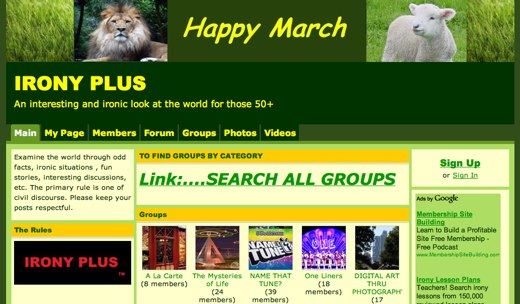 Irony Plus offers an "interesting and ironic look at the world for those 50+". From jokes and one liners, to caption contests and word games, Irony Plus is a place to have fun and enjoy the lighter side of life.
On occasion the forum drifts into more serious topics like a grandparent's rights and retirement plans, but even there the focus is mainly on fun. Many members make use of the forum for games and contests and this month, people can take part in a springtime scavenger hunt or compete to see who has pulled the most outrageous April Fool's Day prank.
To help the 50+ crowd get started on the network, there is a Newbie Guide and some basic tips on how to format text using HTML tags. It's a great way to get new members up to speed and get them to take advantage of all the flexibility they have to customize their page.
So if you're over 50 — or just plan to be one day — have some fun on Irony Plus!