Finding your rhythm on Capoeira Espaço
Ning Network Spotlight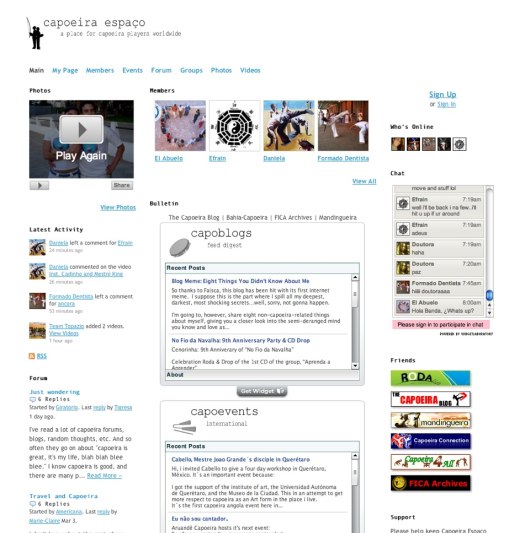 Capoeira Espaço is the premier social network for capoeira enthusiasts around the world.
Capoeira is a kind of martial art where the objective is to exhibit skill and style, rather than injure the opponent. To the casual observer, it may resemble a well-choreographed dance with its acrobatic and fluid body movements, all set to rhythmic Afro-Cuban music.
Though Capoeira originated in Brazil, you can find devoted Capoeiristas spread throughout the world. Capoeira Espaço helps members find other capoeiristas to train with. As member Americana points out, "I tend to travel quite a bit … It's not always easy to find groups in every area that I go to, which is why it's nice to have a network like this!"
Capoeira Espaço also provides a great place to share information about local gatherings and events. There's a forum category for information on upcoming events that might be of interest to the capoeira community. To draw attention to this key area, Network Creator Compromisso created a new events tab that links to this page. Compromisso also uses the forums to assist members new to social networking. By creating a helpzone he offers tutorials for things like how to create a good profile picture. And since it's a forum, others can contribute their own advice and feedback.
You can also find a great selection of videos showcasing capoeira in action. Check out this clip, from a large capoeira event in Germany, for the energetic movements of the various capoeiristas from around the world:
To share in this vibrant community, head on over to Capoeira Espaço!