Genesis Community: The next best thing to seeing the band live
Ning Network Spotlight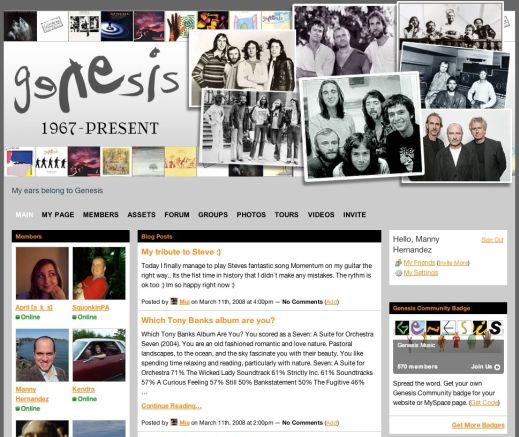 Genesis Community is a social network launched in late January 2008 to bring together the fans of Genesis, the classic rock band from England. In less than two months, the network has grown to more than 600 members from all over the world. The Network Creator, who calls himself God, takes advantage of just about every feature available, starting with the gorgeous header that crowns every page.
Discussion topics on the network's forum range from the classic "favorite album" to an exchange of opinions about the band's new double CD.
Groups have popped up left and right, uniting Genesis Fans in the UK and members who speak Spanish, as well as Hacketteers and Banksians — folks who like to talk about Steve Hackett and Tony Banks, the lead guitarist and keyboard player of Genesis, respectively.
The photos and videos sections are a veritable treat for fans of Genesis young and old. Don't take my word for it: Just check out the video below. Though the audio could be better, this rendition of "Ripples" captured last year by one member exemplifies the kind of sharing made possible by this network:
To round things up, Genesis Community offers an assets section packed with Genesis buddy icons and wallpaper as well as a detailed Tours page that walks members through the band's timeline. If you're a fan of Genesis, with or without Peter Gabriel or Phil Collins, you'll find Genesis Community rewarding.