Get Your CoolWorks Here
Ning Network Spotlight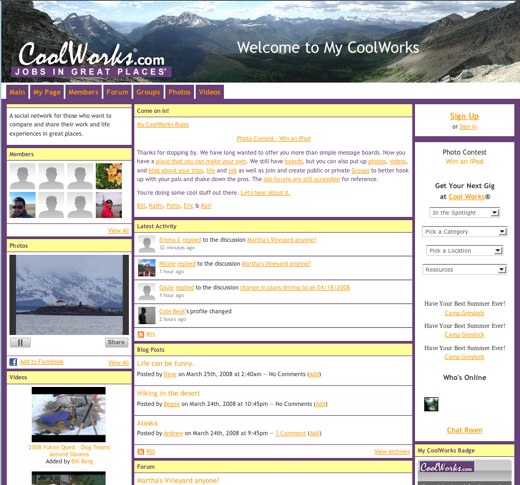 My CoolWorks is a network that recently celebrated its first anniversary and now has more than 800 members. It's a social network about people who share a common love for working in the great outdoors. Their experience in seasonal work is shared through blog posts, photos and videos.
A kiosk of abundant information about seasonal jobs and resources can be found on the right hand side of the main page. Motivating member participation, the Nework Creator came up with a Win an iPod photo contest where the winner will be chosen based on member ratings and comments. Connecting members of all different ages, Older and Bolder is one of the most active forums and groups for the more mature crowd. You'll also find popular groups such as, Alaska Addicts, Yellowstone Employees and Grand Teton – the mini alps, with members sharing their adventurous stories and helpful tips with one another.
So come get your CoolWorks and venture into the wild.