HipHopArabia.net: The Arab Hip Hop Social Network
Ning Network Spotlight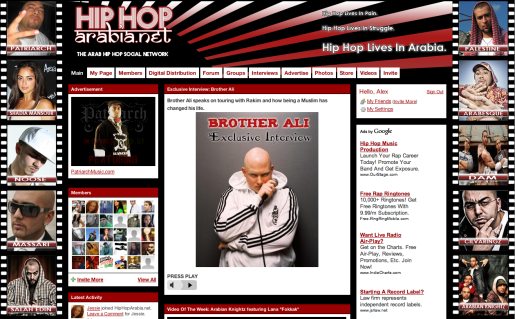 Hiphoparabia.net was created for connecting those who love Arabian Hip Hop. Although the first single of strictly Arabic origins didn't drop until 1999's "Ashanak Arabi" by MWR, there are some major stars of Arabian influence including Nas and DJ Khaled. Within its first month of existence, this network has attracted more than 160 members!
Created by the Arab rapper Patriarch, the network is drawing in people from all over the world. With members claiming hometowns of San Francisco, Zürich and Jerusalem (among many others), Hiphoparabia.net contains a wide array of thoughts and experiences. However, there is one constant: an appreciation for good Hip Hop.
Patriarch also encourages members to upload original content to keep things fresh. From concert pics to exclusive interviews with big name artists such as Brother Ali, things are picking up at The Arab Hip Hop Social Network. So, whether you're a fan of Arabian music, enjoy Hip Hip or simply want to listen to something different, get on over to www.hiphoparabia.net.