Hueytown High School's Golden Gophers go social
Ning Network Spotlight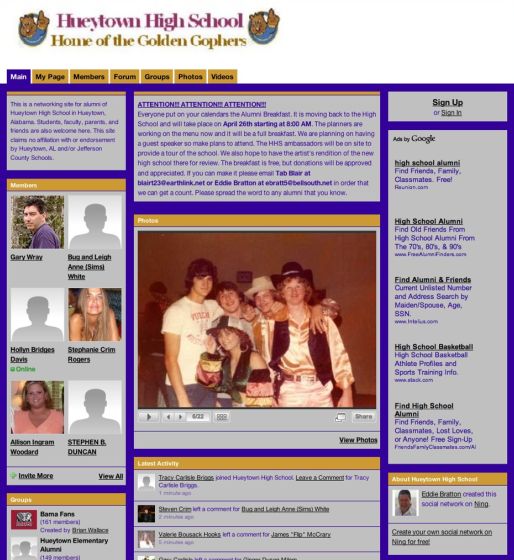 Hueytown is a suburb of Birmingham, Alabama with a population of just under 20,000. More than 1,000 of the residents of Hueytown are members of the Hueytown High School social network.
Founded in 1922, the school known as the Home of the Golden Gophers has a long history, and much of it is surfacing in this network.
Photos of reunions, pictures of children and grandchildren of alumni and albums of high school memories fill the network's massive photo section, home to over 6100 photos. Check out a few great shots in the slideshow below.
Members have created more than 130 groups, ranging from one for band alumni to several in memory of classmates who have passed away.
The forum is packed with active discussions on topics such as "What kind of car did you drive in H.S.?" or "What's the craziest thing you did in High School?" that bring back good times to those who spent their high school years at Hueytown.
If you've ever thought of starting a social network for alumni of your high school, check out what Hueytown High School is doing. And if you went to school at Hueytown, what are you waiting for? Share your Golden Gopher pride!