Live from Ireland
Ning Network Spotlight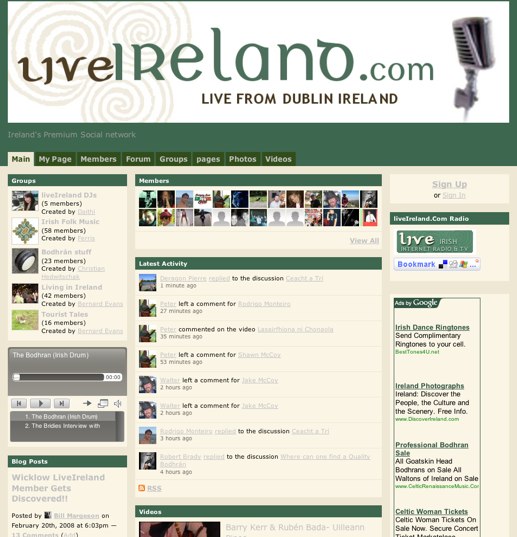 LiveIreland is a social network for all things Irish. The network accompanies LiveIreland.com, the home for Irish internet radio and TV, in spreading a love of Ireland and Irish culture.
From Belfast to Connemara to Dublin, the network has it all covered. Members use the Videos section to show off local talent and a few of them have uploaded their own music:
The forum is rife with discussions about Celtic culture. Members share their favorite Celtic music from outside Ireland and reminisce about classic Irish poets like Thomas Moore.
LiveIreland's 638 members are some of the most welcoming in Cyberspace. New members are often left welcome messages, and, as the love of all things Irish extends far beyond the island's shores, so does LiveIreland's base. Members hail from all corners of the Western Hemisphere, from Europe to South America to Canada. Best of all, fans of LiveIreland Internet radio can use the network to interact with the people behind the popular streaming radio station — and they have, leaving 117 comments for DJ Daithi.
So brush up on your Gaelic and head over to LiveIreland. You'll be planning your next trip to Achill Island and blasting The Frames and Bell X1 in no time.