Living the Chocolate Life
Ning Network Spotlight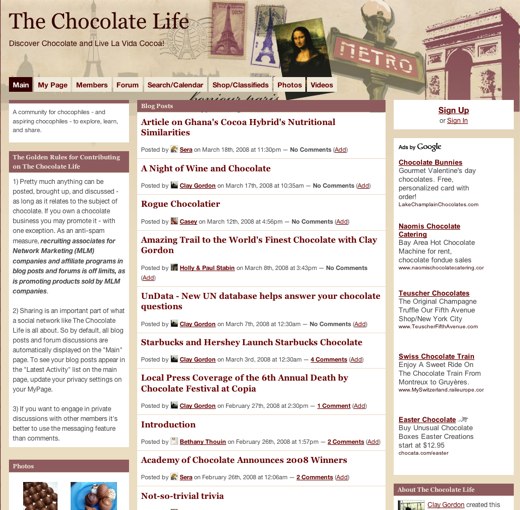 If you're a chocolate lover, The Chocolate Life is definitely worth checking out!
Just two months old, close to 100 chocophiles have adopted The Chocolate Life already. Everything you want to know about chocolate can be found in the lively forum. You can also find great reads about the world of chocolate in blog posts such as travel excursions in Europe, a Rogue Chocolatier and a Night of Wine & Chocolate.
Network Creator Clay Gordon has a passion for chocolate that began 14 years ago. After several years of studying the art of chocolate, Clay "decided, in an entrepreneurial epiphany, to become a chocolate critic." His continued love for chocolate has transpired in a 2008 IACP cookbook award nomination for his book, Discover Chocolate: The Ultimate Guide to Buying, Tasting, and Enjoying Fine Chocolate.
Check out the delectable chocolate slide show and live The Chocolate Life!