Make It Your Own: Dream to make a difference
Ning Network Spotlight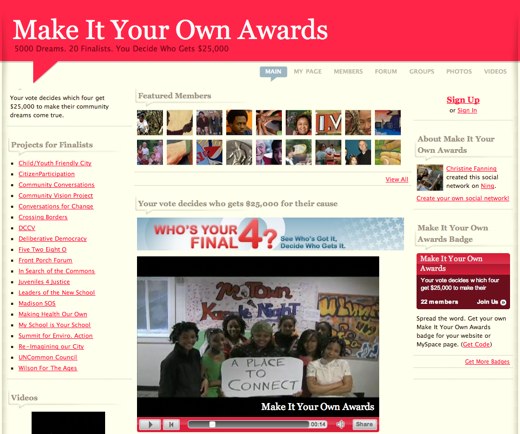 Steve Case (co-founder of America Online) and his wife Jean started the Case Foundation in 1997. In 2007, they launched the Make It Your Own Awards (MIYO), a grant program that joins people together to create ideas and solutions for long-term social change in their communities. Recently, the Make It Your Own Awards network made its appearance on Ning.
Christine Fanning, Vice President of Partnerships at the Case Foundation and MIYO Network Creator, shared with us: "Ning represents so much of what we are trying to do at the Case Foundation. The importance of collaboration and the power of people joined together for a common purpose are also at the heart of the Ning experience."
On March 25, voting started to select the final 4 among the 20 finalists for the Make It Your Own Awards. In addition to starting the MIYO network, the Case Foundation created networks for each of these projects. The MIYO network links to each of the networks from a text box on its main page. All the networks share a common look and feel, using one of the new themes recently made available.
Christine hopes that each of these networks will live far beyond April 22, when the voting will close. She emphasized: "I hope these Ning networks will help their off-line communities grow and prosper as envisioned by their Make It Your Own projects." If the feedback she received got after sending out invitations can be an indicator, she probably will see her dream come true. "I think it's because the process of joining was so easy and fun," Fanning concluded.
If you have a dream to make a difference in your community, you will find enough inspiration in the Make It Your Own Awards network. In the meantime, enjoy one of their fine videos: