Marching with the Obama Brigade
Ning Network Spotlight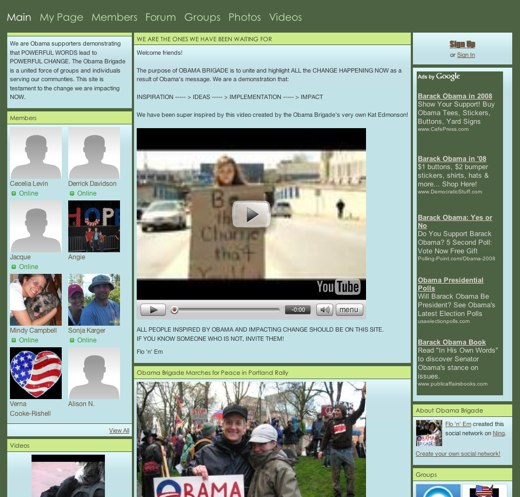 In the midst of a heavily contested presidential primary, Barack Obama supporters are turning to social networks to organize and communicate. Inspired supporters have created their own network to focus their energy: the Obama Brigade.
Members are utilizing the network for a variety of purposes. First and foremost, they are sharing their reasons for supporting Sen. Obama and debating what Obama's election would actually mean for the country and world. Old-fashioned street walking still matters in election, so the Obama Brigade also uses the forums for old-style organization to arrange meetings. The network has also set up groups for each state, so supporters can focus their energy on each state's primary and network with fellow residents.
Of course, members have put the multimedia sections of the network to good use as well. Hundreds of supporter photos — some of Obama himself — have been uploaded. Members are obviously big fans of Will.i.am's "Yes We Can" video, and they have even created their own music videos to show off:
So if you're an Obama supporter, join the bridgade. If you're throwing your support to another candidate, start your own brigade!