Meet the Phlockers
Ning Network Spotlight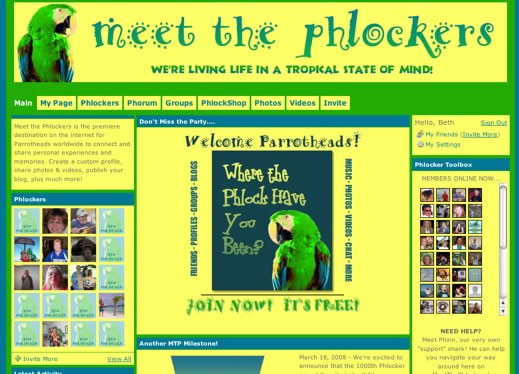 Meet the Phlockers is the internet's premiere destination for Parrotheads. For those uninitiated in the ways of the Parrothead… think Jimmy Buffet, island-living, cool tropical drinks, and a refined understanding of how to take a load off and relaaaaaax. The network has been live for less than a month and already has more than 1300 members, plus an endorsement from Jimmy Buffet himself!
The design of the network embodies the "tropical state of mind"—with cool blues, bright yellow and greens, and a friendly parrot right at the top of the page. In addition, the language editor has been put to good use, to change members to "Phlockers" and forums to "Phorums" so everything keeps within the theme of this Parrothead paradise. (Luckily, "Photos" already fits.)
Meet the Phlockers is also doing some special things to attract and engage members. On the Main page, people are greeted by a large "Welcome Parrotheads!" message, that in a few words explains what you can do on the network, along with the suggestion to "Join Now! It's Free!" And Meet the Phlockers is already taking advantage of a great new feature from the latest release—a customized default image for new members. If someone joins the network and doesn't upload a photo right away, the member gets a "New Phlocker" image with the same friendly parrot.
For anyone who might need a little help getting started, there is Phinn, the official "support shark." Phinn has his own profile page with suggestions on how to use the network, and will be answering questions on his comment wall.
For its first 1000 members, Meet the Phlockers started an exclusive Phounding Phlocker group. Membership is by invitation only, and each request is confirmed (or denied) by the administrators to make sure the person qualifies. This is a great way to create some buzz and an in-crowd feeling for these early adopters.
If you're ready for a taste of the island life, go grab a margarita and enjoy the sun over at Meet the Phlockers!