Melbourne Cyclists
Ning Network Spotlight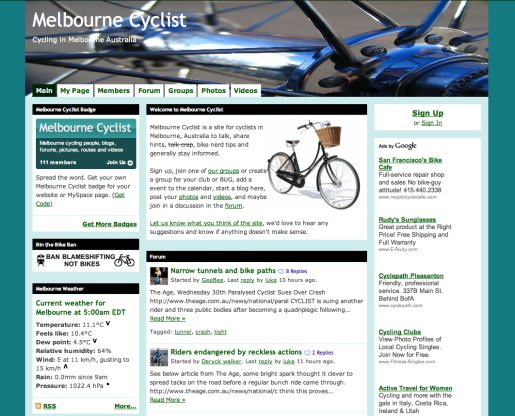 The Melbourne Cyclist network is the best thing to hit cycling in Melbourne since rubber tires. No more than two months old, this network is picking up members at a rapid clip!
Located on the southeast end of the beautiful continent of Australia, Melbourne is designed to be enjoyed by bicycle. Think that's an exaggeration? Check out the blog post my member ChrisS entitled "A lovely bike ride":
Just went for a lovely bike ride.
The weather was ever so nice, the birds were singing, the golden sun wasn't too hot
and all seemed just peachy in the world…
Melbourne Cyclist has a wealth of information for those on two wheels to use. The Network Creator uses RSS feeds from outside sources to provide lots of pertinent information, including Melbourne's weather at all times. And with an active forum, members are sharing in the well-chosen categories such as Group Rides and Product Reviews.
So if you do find yourself wondering how to meander around the amazing landscape of Melbourne, get on your bike and cruise over to www.melbournecyclist.com. You might even see our very own Phil flying past you on his brand new single speed!