Mixing it up on I.Coopr8.net
Ning Network Spotlight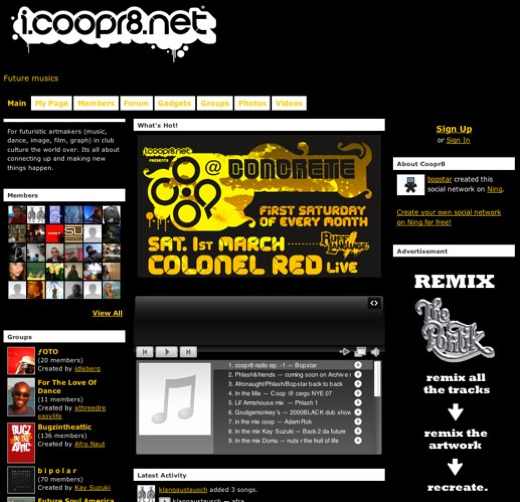 I.Coopr8 is "for futuristic artmakers (music, dance, image, film, graph) in club culture the world over." This network gathers photos, events, posters, music and members.
The Forum section makes great use of the categories, allowing Events postings as well as a section for members to share Mixtapes, Podcasts and Downloads. Photos provides a centralized spot for Event Flyers
as well as show footage.
Groups are going strong with the 140 member Production – In the Studio heading the pack. Specific clubs host their own groups, allowing members to get on guest lists for shows and reconnect over past events. Upcoming events also get blog space, March Coopr8 Events are currently featured on the Main page.
Logically, as a music-centered network, I.Coopr8 places the music player front and center. Check out the playlist of member-produced music, where Network Creator Bopstar starts off the mix!