Mom Reality: The only network for real moms!
Ning Network Spotlight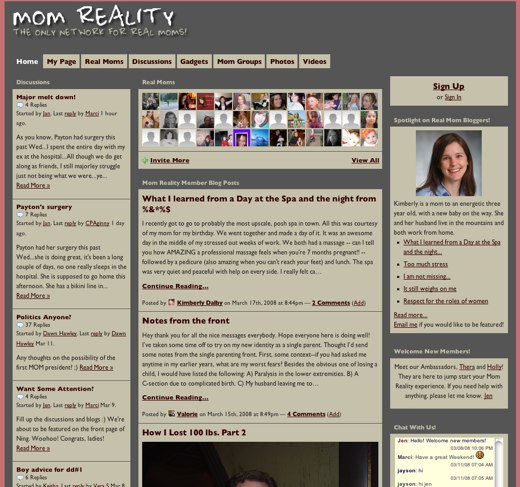 A mother's life is full of experiences that range from joyful to challenging, making a social network for mothers a natural place for support and self-expression.
Jen, mom of a 7-year old and a 16-month old, is the founder of Mom Reality, a network where mothers can "make new friends, laugh and learn with other like-minded mamas."
The network's privacy setting is currently public, with only the main page visible to non-members. New members must apply for membership, giving Jen greater control over who joins. Once new members are approved, they are welcomed through a dedicated message in a text box on the main page, making them feel at home.
Jen has taken advantage of the Language Editor to even further customize Mom Reality. She has renamed the main features to reflect the network's theme: members are "Real Moms," groups are called "Mom Groups" and Latest Activity is now "Mom Reality Movers & Shakers."
There are a number of specialized groups on the network. Punkins – Toddlers and Older and Breastfeeding Support are among the most popular of these.
The main page prominently displays Mom Reality Member Blog Posts, and the discussions section carries diverse topics such as conception, fertility, pregnancy, breastfeeding and children in all their growth phases.
If you're a mom seeking to connect with other mothers, make sure to sign up for Mom Reality.