My Gallery: A Gallery For Everyone
Ning Network Spotlight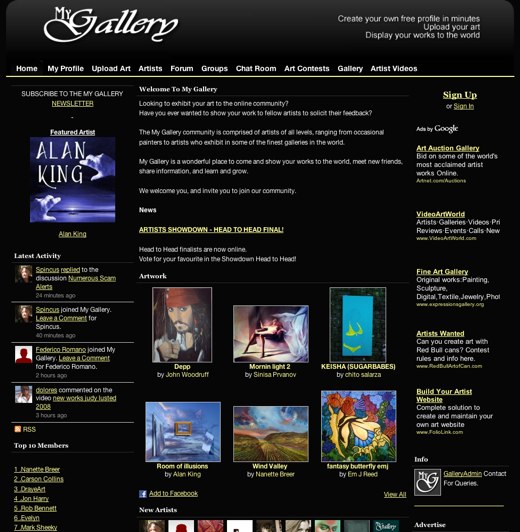 My Gallery is a "free website dedicated to artists, art appreciators and buyers that lets them meet other artists and display their works." It's also a fantastic concept — a virtual art space where artists and art appreciators can do everything from discuss issues relevant to the artist community to buying, selling, trading or just appreciating each others' art pieces.
It's a thriving network as well, with more than 300 members from around the world. Members are posting some amazing pieces — stained glass to sculpture, video-based art to an oil on canvas painting of Johnny Depp. And members of My Gallery take advantage of the customizable profile pages. (No surprise there, of course. They're artists!)
Content aside, this Network Creator has taken full advantage of the customization you can do with your network. The language editor is used thoughtfully, so that members are referred to as artists, and what is a photos section for other networks is now a "Gallery." The Network Creator has also added the ability to add the My Gallery Artwork slideshow to Facebook — which any Network Creator can do — and uses premium services to replace the default ads with their own, as well as a PayPal donation button.
Jackson Pollack once said that "the modern artist is working with space and time and expressing his feelings rather than illustrating." And visiting My Gallery, you definitely get the sense that many diverse and wonderful feelings are truly being expressed.