MyDeejaySpace.com
Ning Network Spotlight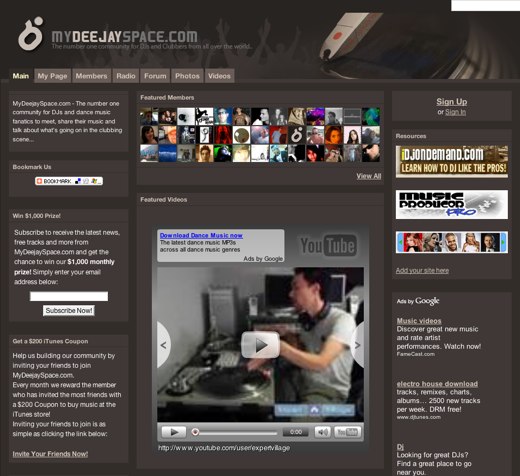 If you're a DJ, a clubber or a dance music fanatic, MyDeejaySpace.com is the social network for you.
Members discuss their favorite DJs in the active forum. It's split into different categories based on different music styles: "House Music," "Trance Music," "Techno and Minimal Music," "Electro and Progressive Music" and "All other dance music styles."
The network takes advantage of the ability to feature members on the main page of the network to display those with the best avatars. Members use their blogs to write about about their favorite DJs and to advertise their own DJ bios.
About two months after its creation, there are more than 2000 members on MyDeejaySpace.com. The network is currently running a contest to drive membership even higher. As announced on the main page of the network, the member who has invited the most friends at the end of each month is rewarded with a $200 iTunes gift card.
So join the party, learn about your favorite DJs, and invite your friends at MyDeejaySpace.com!