Networking with the Dallas Mavericks
Ning Network Spotlight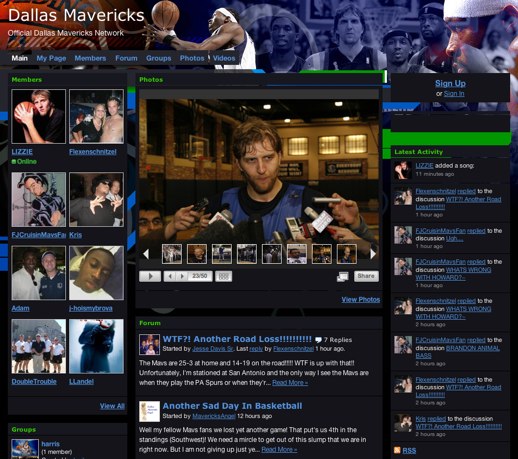 The Dallas Mavericks' social network is the No. 1 place for Mavs fans to connect online.
The network is located at friends.mavs.com, a subdomain of the Maverick's official Web site, and is a hotbed of fan conversation. There are currently more than 2000 members, and the forum is really active. Members have started more than 2000 different discussions with tens of thousands of responses. Topics run the gamut, from trades to debating the Mav's performance each night.
Demonstrating the global growth of the NBA and social networks, members hail from as far away as China and Israel. Many members use their profile photos to show off their favorite Maverick, and Dirk Nowitzki appears to be the heavy favorite. Even owner and Dancing with the Stars favorite Mark Cuban appears to be getting in on the action!
Photos are a popular feature as well. Members regularly upload crisp game photos, and fans with players are common as well.
So if you're a Maverick's fan, head over the network. And if not, set up a network for your favorite team!