Perfect your backhand at Tennisopolis
Ning Network Spotlight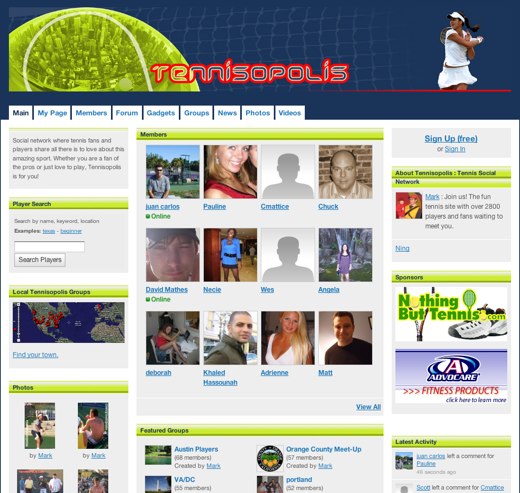 If you can't stop thinking about last weekend's doubles match or your forehand volley, rest easy. Now you can talk tennis online too at Tennisopolis.
Nearly 3,000 people have joined Tennisopolis, "where tennis fans and players share all there is to love about this amazing sport." And share they do. The forum — categorized into 10 different topics — is filled to the brim with tennis-related discussions. Members have tossed around their ideal tennis player and debated the merits of "grunting" when striking the ball. Mark, the Network Creator, has even created a forum category for classified ads, where members can buy and sell their tennis gear.
One of the best uses of the network, however, is to find potential tennis matches. Members have created more than 100 groups, many of which are location-specific. The Vancouver group has more than 40 members already, and Palm Springs has almost 20. In Orange County Meet-Up, group members find tennis partners. Eventually, Mark hopes the network will become large enough for members to create groups specifically for their own tennis club.
"I belong to a tennis club and setting up matches is a pain; you have to go to the club roster and start calling people on the phone one by one," Mark explained in a blog post about the future of the network. "Wouldn't it be nice to go to an ABC Tennis Club group on Tennisopolis and post, 'anybody up for 3.5 singles on Saturday at 11?' Of course, and that's a reality now with our system."
Fellow Network Creators should take note of Mark's membership-building techniques, which are partly responsible for the incredible growth of this barely two-month-old network. Mark ran a member-referral contest where every time a member got a new person to join, the referring member was entered in a contest to win a $200 tennis-related gift certificate. NothingButTennis.com even sponsored the contest, so it came at no additional cost to him!
According to Mark, "Tennisopolis grew from about 950 members to about 2550 members
during the contest. That's more than 150 percent growth!"
The contest went so well that Mark is even in the middle of staging a new one. So it's the perfect time to scramble over to Tennisopolis — do it before your miss your shot!