Pocket Full of Art
Ning Network Spotlight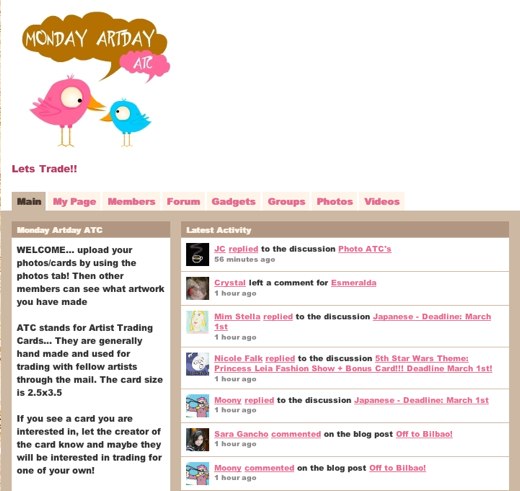 Monday Artday ATC is a rapidly growing network of artists sharing their works of 2.5″ by 3.5″ cards, known as Artist Trading Cards. At worldwide gatherings, ATC collectors come to trade and artists come to promote their work.
Trading ATCs on the network works in the same way, but instead of face-to-face sessions, members of the network use the photos section to show off their wares. Rules are posted on the main page about how to conduct trading, and a warm welcome message greets new members in the forum. Every Monday, there is a weekly contest where artists submit cards based on a special theme. And in a clever twist, the winner of each weeks' contest chooses next week's theme and winner. This inventive idea keeps the network interactive and creative.
The vibrancy of this network is can be seen on the network's most popular groups. On JAM cards, each member contributes a small part of a collaborative trading card. Themed ATC aims for trading cards with specific themes, and the Star Wars Trading Group hits an even narrower niche.
Nothing showcases ATCs better than the network's photos section, which currently showcases close to 1800 cards to trade:
So get into the trading spirit and come check out the cards!